Happy Tuesday everyone! This week's Top Ten Tuesday, hosted by That Artsy Reader Girl, is about the authors we immediately pre-order/auto-buy books from. This one will be a little hard for me because more than a few of my favourite authors are no longer living so auto-buying new books is not really an option (despite the seances I sometimes hold asking them to write more books).
But in no particular order here we go!
---
Margaret Atwood

(The Handmaid's Tale, Alias Grace, The Blind Assassin, Oryx and Crake)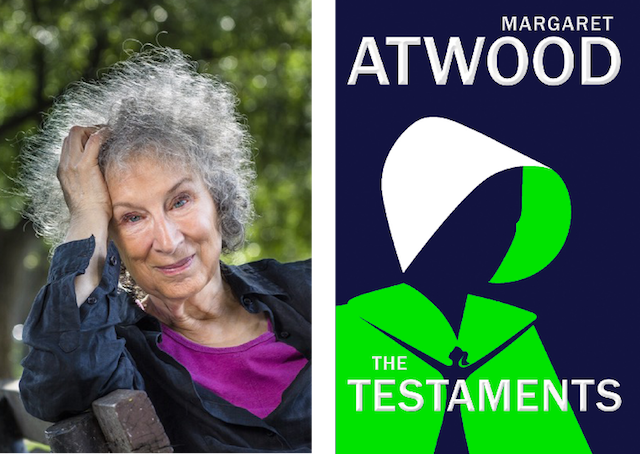 I don't often pre-order books because I'm a library fiend, but the second I heard a sequel to The Handmaid's Tale was coming out you better believe that book went straight into my Amazon cart. Whilst her books are certainly not light reading, nothing I've read of hers is less than stellar. I'm going to be attending a talk with her around the release date of The Testaments and I am counting down the days.
Sherman Alexie

(Reservation Blues, The Absolutely True Diary of a Part-Time Indian, The Lone Ranger and Tonto Fist Fight in Heaven, Thunder Boy Jr.)
Reservation Blues is one of my favourite books of all-time, but just about everything Alexie has written is phenomenal. He has quite a range from novels, to YA, to children's books, to poetry and memoirs so there's always something for everyone within his bibliography. The movie adaptations of his writings, like Smoke Signals, do the books a lot of justice.
Alexander McCall Smith

(No. 1 Ladies Detective Agency, The Sunday Philosophy Club, The Department of Sensitive Crimes)
A few years ago when I was going through a rough time my husband bought me The No. 1 Ladies Detective Agency on a whim, liking the colourful cover and thinking it would cheer me up. He was certainly right! I cherish Mma Ramotswe and her world. Whenever I need a break from reality or a pick me up, his books are a go-to for me. So anytime he puts out a new book or series I immediately snatch it up. My shelves are full of his different series and standalones, making a very cheery addition to my home library.
Bernard Cornwell

(The Last Kingdom, The Warlord Chronicles, Sharpe)
The first book of his I read was The Last Kingdom and I pretty much haven't stopped reading his books since. When I finished The Last Kingdom I ran through the house shouting to anyone who would listen that they had to read this book and bought most my family members a copy.
Since then I've read Sharpe, The Warlord Chronicles (about King Arthur), and several of his standalone novels like Stonehenge. Any time I see a book of his I immediately buy it and add it to my collection.
John Scalzi

(Old Man's War, Redshirts, Agent to the Stars)
So this is my top New to Me Author of 2019. I've been aware of his books for years, anyone who likes sci-fi would have to be, but I'd never actually gotten around to reading any of them. I finally read Old Man's War earlier this year and immediately got very upset with myself for not having read it sooner. It. Was. Awesome.
I've read several more of his books since then like Redshirts, often through Audible and narrated by Wil Wheaton. But more about Wil in a minute…
(btw John Scalzi is on WordPress, read his amusing blog here)
Andy Weir

(The Martian, Artemis)
For those of you who regularly read my blog, you're well aware that I find a way to tell y'all how much I love The Martian any chance I get. It's simply one of the best books of all time and I will never not love it with all my nerdy heart.
When Artemis was announced I hopped right onto the library waiting list for it. While it wasn't quite in the same league as The Martian, it was still a fun read. I look forward to anything else Andy Weir puts out.
Kathy Reichs

(Bones, Virals)
Bones was a show I absolutely adored so I was a little sad when it went off the air despite it having such a long run. I knew from the get-go that the show was loosely based on characters from Kathy Reich's books but I had only ever watched the show.
Then a couple years ago at a flea market I picked up Déjà Dead and while it's definitely a much different Temperance Brennan that's in the books, the story was familiar and enjoyable enough to fill the Bones shaped hole in my heart. I don't tend to collect many series beyond the ones I've mentioned in this post, but I've got most of her books in my home library and will purchase any others when they're released (although she's sadly on a hiatus due to health issues).
Pierce Brown

(Red Rising, Iron Gold, Golden Son)
Red Rising is another book I bring up whenever possible. It took me about 100 pages before I started to realise what all the hype was about, but once I did I was hooked. I blew through the first 3 books in as many weeks then started on the post-Red Rising books soon after. A sixth book is due to be out this year and I'm totally here for it.
Wil Wheaton

(Ready Player One, Armada, Redshirts, Strange Weather, What If?)
It wasn't until a few years ago that I really got into audiobooks. Before that I only tended to get them if they were narrated by the author and I'd heard the performances were incredible (I'm looking at you, Steve Martin). That all changed with ol' Wesley Crusher.
My library has a pretty impressive list of audiobooks and one day I saw that Wil Wheaton had narrated a few. Chuckling to myself about listening to a book read by Wesley Crusher, I ended up LOVING it. Wil is now hands down my favourite audiobook narrator and I actively try to listen to anything he's in, especially the books by Joe Hill, Ernest Cline, and John Scalzi.
Kate Mulgrew

(Born with Teeth, NOS4A2, The Fireman, Strange Weather)
It must be something in the Star Trek air, because my second favourite audiobook narrator is Kate Mulgrew. She's Joe Hill's go-to, but she's also written a memoir and has lent her strong and distinctive voice to a few other authors too. I've listened to them all.
Voyager is my most beloved Star Trek series (I know, I know, but I don't care) so being able to hear Captain Janeway's voice coming through my headphones reading me stories is an utter treat. She's a simply wonderful narrator.
---
Are any of these authors or narrators on your auto-buy lists? Which authors made it to your TTT this week? Let me know in the comments!